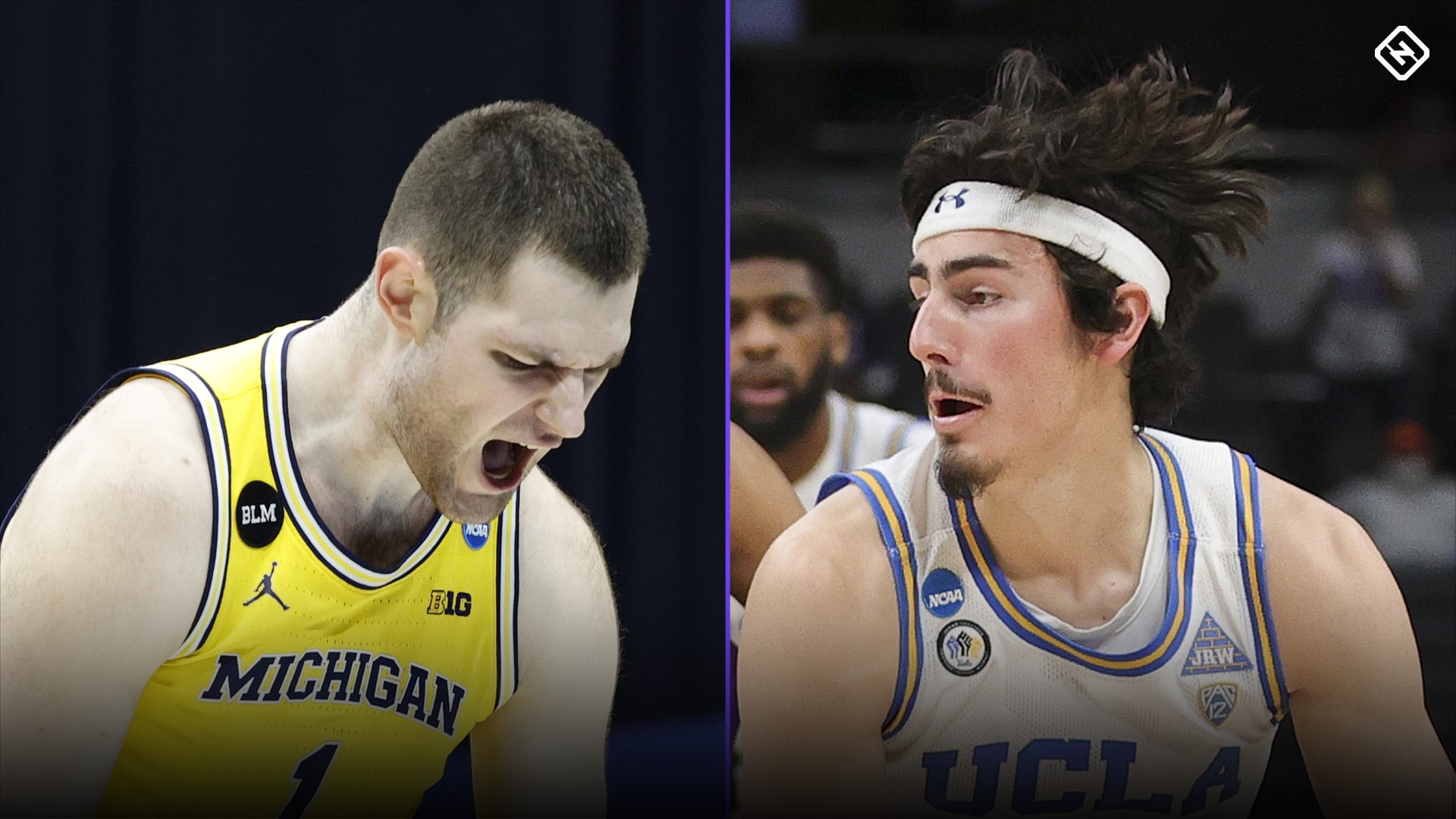 The two teams vying for the final spot in the 2021 Final Four could not have had different paths to their Elite Eight matchup on Tuesday.
Michigan has looked the part of dominant 1 seed, withstanding the loss of Isaiah Livers with excellent play from Hunter Dickinson, Franz Wagner and more to beat their NCAA Tournament opponents — Texas Southern, LSU and Florida State — by an average of 14 points per game. Then there's UCLA, playing its fifth game in nearly two weeks and looking to become just the second-ever First Four team to make it to the Final Four.
The Bruins' improbable March Madness run has been fueled by excellent play by sophomore guards Jaime Jaquez (16.8 ppg, 6.8 rpg, 1.3 spg, 1.0 bpg) and Johnny Juzang (20 ppg, four apg), but they have five starters who have averaged at least 10 points per game this season.
Hunter Dickinson and Franz Wagner, 7-1 and 6-9, respectively, have been the driving force for the Wolverines' run to the Elite Eight. Dickinson has averaged 14 ppg, seven rpg and two bpg) while Wagner has put up 12.3 ppg and 8.7 rpg per game. Brandon Johns Jr., Chaundee Brown and Austin Davis have all stepped up without Livers, as well.
Sporting News is tracking live scoring updates and highlights from Michigan vs. UCLA in the 2021 NCAA Tournament. Follow below for complete results from the Elite Eight game.
Michigan vs. UCLA score
| | | | |
| --- | --- | --- | --- |
| | 1H | 2H | Final |
| UCLA | 27 | — | — |
| Michigan | 23 | — | — |
MORE MARCH MADNESS: Live scores | Updated bracket | TV schedule
Michigan vs. UCLA live updates, highlights from Elite Eight
All times Eastern
Second half
12:06 p.m.: Wagner gets the shot off … and misses! UCLA has withheld yet another comeback, this time from 1-seed Michigan. They're going dancing in the Final Four!
12:03 p.m.: Looking at a catch-and-shoot here. Now UCLA takes its final timeout up 51-49. Wolverines have missed their last seven shots. Will they make the one that counts?
12:02 p.m.: Smith's would-be buzzer-beating 3 rattles out. Officials are now looking to see how much time is left after UCLA knocked it out of bounds; it looks as if there will be half a second remaining.
Midnight: Juzang misses the second shot! Michigan will have the ball with 6.0 seconds left to tie it or win it all. Wolverines just used their last timeout, so that's all that's left.
11:59 p.m.: If Juzang gets this second shot … will Cronin actually foul up three this time?
11:58 p.m.: Juzang makes the first to make it 51-49 UCLA. Howard takes a timeout to try and ice him.
11:58 p.m.: Juzang's the one fouleed on the one-and-one. He's shooting over 90 percent from the charity stripe this year. There are 6.3 seconds left. UCLA leads 50-49.
11:57 p.m.: Michigan called for a foul before the inbound pass. One more to give.
11:56 p.m.: Wagner airballs a 3 and Brooks can't get the putback. UCLA has the ball and now Michigan has to give two more fouls to get them to the line. There are 6.8 seconds left.
11:54 p.m.: Jaquez misses the corner 3 and gives Michigan the ball with 19.8 seconds left. Any score will give Michigan the lead.
The shot clock is off. Timeout Wolverines.
11:52 p.m.: Timeout UCLA with 35.9 seconds remaining. Something to note: Michigan only has four team fouls, so the Wolverines may want to consider hacking at UCLA coming out of this.
11:52 p.m.: He rattles in the second; 50-49 UCLA.
11:52 p.m.: Wagner makes the first. It's 50-48 UCLA.
11:51 p.m.: Wagner goes to the free throw line with the potential to make it a one-point game. Riley fouls out for UCLA with 44 seconds remaining.
11:50 p.m.: Juzang darts under the basket and scores over Dickinson with under a minute left. It's 50-47 UCLA.
11:49 p.m.: Dickinson can't get the bucket with Riley in defense, but Michigan gets the ball off the possession arrow after a tie-up.
11:45 p.m.: Now UCLA is hit with a shot clock violation. It's Michigan's ball coming out of the media timeout with 2:26 remaining.
11:45 p.m.: Wagner misses on a good look at the basket. Michigan still trails 48-47 with two-and-a-half to go.
11:43 p.m.: UCLA's Jules Bernard hits his second bucket in as many possessions. Those were his first makes at least since the Alabama game.
11:43 p.m.: Dickinson gets makes the second of two free throw attempts, giving Michigan a 47-46 lead with four-and-a-half minutes left in regulation.
11:41 p.m.: There's another Michigan 3, this one from Brown. That ties it at 46. Michigan now has 15 points off the bench compared to zero for UCLA.
11:37 p.m.: Davis is called for a travel after Juzang retakes the lead for UCLA. It will be Bruins ball coming out of the media timeout with 6:13 left in the game.
11:36 p.m.: A Mike Smith 3 has given Michigan their first lead since it was 17-16. Michigan leads 43-42 with fewer than seven minutes remaining. It's his first made basket of the game.
11:33 p.m.: Excellent defense by Brandon Johns Jr. to block a Juzang fastbreak layup attempt. Bruins have the ball up 40-38 with 9:20 remaining.
11:31 p.m.: Austin Davis gets an and-one to bring the Wolverines within two points at 38-36. Riley picks up his third foul.
11:26 p.m.: Cody Riley puts UCLA back on the board with a hook over Dickinson. That makes it 36-33 UCLA. Michigan's called for an offensive foul on the ensuing possession, giving the Bruins the ball after the media timeout. Cronin's timeout seems to be working as intended.
11:21 p.m.: Brooks gets two buckets to bring Michigan to within one at 34-33. That's an 8-0 Michigan run, forcing a Mick Cronin timeout right before the media timeout; he's clearly trying to disrupt Michigan's flow.
11:20 p.m.: Meanwhile, Michigan continues to try and work the paint with Dickinson. He has not scored on either of Michigan's last possessions.
11:19 pm.: Nwuba called for another foul on Dickinson. That's his second in as many possessions. He has three fouls and zero points.
11:16 p.m.: A trainer, meanwhile, has re-taped Juzang's ankle; he's back on the floor. Michigan has made the most of his absence with a small, 4-0 scoring run.
11:14 p.m.: UCLA's Kenneth Nwuba called for a blocking foul on Dickinson; he took both of Michigan's charges in the first half, and Dickinson seems pretty pleased with reversal.
11:12 p.m.: Michigan is now dialing up the pressure with a fullcourt press.
11:11 p.m.: Wagner misses two free throws on the other end of the floor, but a significant development: Juzang is leaving the court limping heavily with some issues to his right ankle.
11:09 p.m.: Not to be discounted: Michigan has 10 turnovers in this game, well over what they're used to giving up. That plus the Wolverines' inability to score in the paint has cost them here early.
11:08 p.m.: Michigan's Eli Brook is called for a … questionable … foul on Juzang, who sold it quite well in a "shot attempt." He sinks all three shots to make it 34-25 UCLA with 18 minutes remaining.
11:06 p.m.: Another, 7-foot bucket from Campbell, who was defended well with Dickinson in his face.
11:05 p.m.: UCLA wastes no time with a Campbell bucket 15 seconds into the half. The Bruins extend their lead to six, their highest of the game.
First half: UCLA 27, Michigan 23
10:46 p.m.: First-half stats:
Field goals: UCLA 11 of 28 (39.3 percent); Michigan 10 of 25 (40 percent)
3-point shooting: UCLA 3 of 8 (37.5 percent); Michigan 1 of 5 (20 percent)
Free throw shooting: UCLA 2 of 2 (100 percent); Michigan 2 of 4 (50 percent)
Rebounds: UCLA 15; Michigan 17
Assists: UClA 7; Michigan 7
Steals: UCLA 3; Michigan 3
Turnovers: UCLA 5; Michigan 9
Largest lead: UCLA 4; Michigan 7
Also: Johnny Juzang is looking like the best player on the floor by a considerable margin. He has 18 points on 8-of-10 shooting and one rebound. He is absolutely smoking the Wolverines. Only two other Bruins have scored: Jaquez (four points) and Campbel (five points).
10:44 p.m.: Smith misses both attempts, making the halftime score 27-23 UCLA. It's the first time the Wolverines have trailed at halftime this tournament.
10:43 p.m.: Michigan forces a stop on UCLA's last first-half defensive possession, and Mike Smith streaks down the court on a fastbreak. He's fouled in the act of shooting and will attempt two free throws with 1.2 seconds left on the clock.
10:39 p.m.: Tyger Campbell breaks up Juzang's scoring streak with a corner 3. That makes it 27-23 UCLA with 1:08 left in the half.
10:38 p.m.: Two more Juzang buckets. He now has 18 points on 8-of-10 shooting, making seven consecutive buckets for UCLA. Neither defense is getting stops.
10:37 p.m.: And now Dickinson and Wagner have been called for charges on consecutive Michigan drives. Can't get in foul trouble this early.
10:36 p.m.: Jaquez sinks them both to give UCLA an 18-17 lead.
10:32 p.m.: Wagner is called for a foul on Jaquez with 3:40 left in the half. He'll attempt two free throws with a chance to give UCLA a lead when the game comes out of media timeout.
10:30 p.m.: Michigan has no answer for Juzang. Jaquez hits him with an assist and he lays up in tradition. He makes it 17-16 Michigan. That's 12 straight points for him (and UCLA).
10:27 p.m.: Juzang hits another long 2 to score 10 straight for the Bruins and bring the score to 15-14 Michigan.
10:20 p.m.: Another 3 from Juzang, who is now 4 for 6 at the media timeout. He has 10 points and has brought the score to 15-12 Michigan.
10:19 p.m.: Another Juzang bucket, this one for 3. He makes it 13-9 UCLA with consecutives scores.
10:18 p.m.: And there's Juzang again with another bucket to break Michigan's run. He has four of UCLA's six points.
10:16 p.m.: A Chaundee Brown Jr. 3-pointer makes it 11-4 Michigan and gives the Wolverines a 9-0 scoring run.
10:11 p.m.: Michigan leads 8-4 at the second media timeout. Not exactly scoring like Gonzaga out there.
10:09 p.m.: Both teams have three turnovers and are shooting less than 50 percent roughly seven minutes into this game. Michigan leads 6-4 but it's ugly early.
10:02 p.m.: Johnny Juzang with the jumper to get UCLA on the board and tie it at 2-2. Both teams looking a little rusty shooting the ball in the opening minutes.
9:59 p.m.: Michigan's Brandon Johns Jr. gets the steal and scores on the fastbreak to start the scoring at 2-0 Wolverines.
How to watch Michigan vs. UCLA
Tuesday's Elite Eight game between Gonzaga and USC is scheduled to tip off at 9:57 p.m. ET (6:57 p.m. PT) after the conclusion of Gonzaga vs. USC.
It will be broadcast nationally on TBS with Brian Anderson, Jim Jackson and Allie LaForce on the call. You can stream the game on March Madness Live, the online home of every 2021 NCAA Tournament game.
March Madness Final Four schedule 2021
Saturday, April 3
NCAA Tournament national championship
Monday, April 5
| | | |
| --- | --- | --- |
| Game | Time (ET) | TV |
| Game 67 | 9 p.m. | CBS, fuboTV |